FreeScan UE Pro is a new model in the Shining 3D UE series which is metrologically accurate and highly repeatable. This professional portable 3D scanner, which is ideal for solving production tasks. The equipment allows you to quickly and accurately digitize objects and use the data in programs for design and quality control.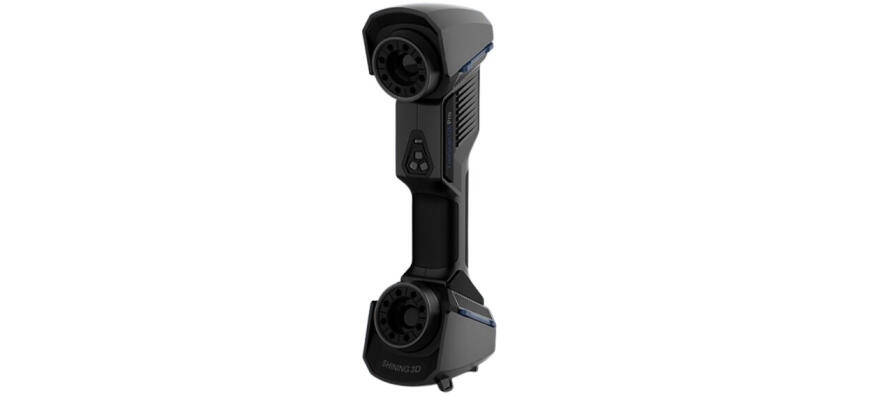 The FreeScan UE Pro can scan large objects thanks to its built-in photogrammetry feature. Three scanning modes are available for large and small items and a separate single laser line mode provides the perfect scan for details with holes or slots.
The high resolution of the integrated cameras ensures that the smallest details such as stamping or leather grain are captured accurately. The included proprietary software ensures fast data processing. Easy software training and easy export of data to other applications greatly simplify production processes.
Technical specifications
Dimensions 298 x 103.5 x 74.5 mm
Certifications CE, FCC, ROHS, WEEE, KC
Connection standard USB 3.0
Laser class Class 2M (eye safe)
Light Source 26 laser lines, single laser line, 5 parallel laser lines
Max. scan range 600 mm x 550 mm
Photogrammetry Built-in scale bar photogrammetry mode
Power input 12 V, 5.0 A
Recommended computer configuration OS: Win 10, 64 bit; Graphics card: NVIDIA GTX/RTX series cards, higher or equal to GeForce RTX 3060; Video memory: ≥6 GB; Processor: I7-8700; Memory: ≥32 GB
Scan accuracy Up to 0.02 mm
Scan depth 170 mm – 680 mm
Scan mode Multiple Lines Scan, Single Line Scan, Fine Scan
Scan Speed 1,850,000 points/s
Volumetric accuracy 0.02 mm + 0.03 mm/m (standard mode); 0.02 + 0.015 mm/m (built-in photogrammetry mode)
Working distance 300 mm, 200 mm
Working humidity 10% – 90%
Working Temperature -20 °C – 40 °C
Texture / Colors No
Technology Laser
Weight 840 g
Read more in the full review of the Freescan UE Pro 3D Scanner.